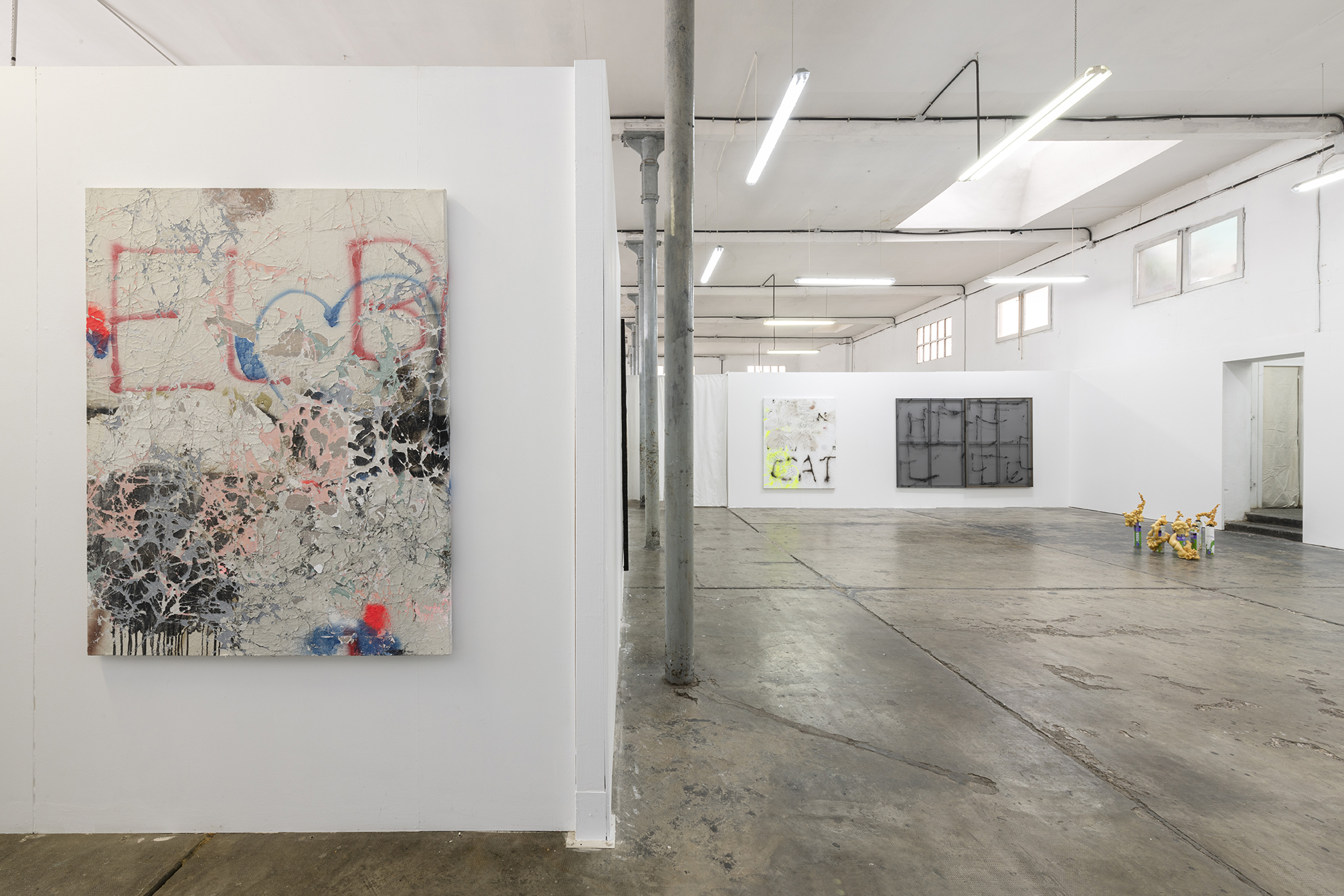 Pon El Ceerre Al Lado De Un Miquel
Esther Miquel & Xavi Ceerre
1 December – 14 December 2022
Groc Projects
In this show, Esther Miquel and Xavi Ceerre present recent works in a pictorial contrapposto of sorts. Having in common not only their friendship and their common belonging to a generation, but also shared interests and a formal approach to painting. From calligraphy and symbolism, the painter's gesture becomes almost readable as writing, or a phonetic note, one that while being unique resonates in their meeting.

In Xavi's work, his past as an urban artist has transformed his brushstroke into a shadow of the letters that use to populate public spaces. Those successive coats now act as an accumulation of voices in the same pictorial field. Esther's works are oriented towards meditation and a geological space, creating graphic signs that remind us of brackets. Silent spaces that suspend meaning yet suggest an unfolding of its own making.
Both artists research the materiality of painting as an essential part of their practice. Esther's interest in the usually hidden internal architecture of a painting as a tridimensional object, reveals with its veils the stretcher as a formal element of her canvases. This is also achieved by a restrained use of colour in order to create a sense of quiet self-reflection. In Xavi's practice, the painter's gestures and pentimenti are reunited on the surface mirroring each other. By using radiant and fluorescent colours the artist's brushwork signature leaves a trace that echoes the industrial space that was, and now remains only as a memory.

Their shared interest in the surface and materiality of painting is by chance reflected also in the specificity of the format. A specific size that submerges the body of the viewer, engaging him with a bodily relation with paint, in stark opposition to the smaller formats that generally act more like a window or vista.

Pon el Ceerre al lado de un Miquel is the merging of those distinct voices in a physical dialogue for the viewer to explore.

Text by Guille Caivano
Pictures by Roberto Ruiz